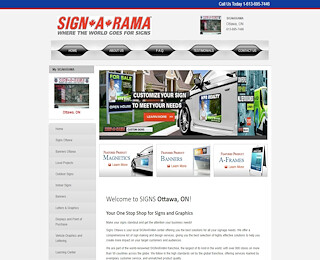 Banners Ottawa can make or break your business. Impactful signs and graphics attract potential customers effectively and improve brand recognition and recall, which are keys to drawing in repeat customers. Signs Ottawa is the best place to turn to if you want highly effective and lasting signs for your business.
Your new business in Ottawa needs to make noise right from the opening day, which is why it is important to plan your grand opening in such a way that would make a mark on your audiences and target customers. To draw in more customers, your business should be noticeable and hard to miss. Big banners and signs give you the publicity you need to make an impression in your neighborhood.  For you to market your business well, think about the types of banners and signs that can best benefit your business, as well as the correct placement of each within, around, and outside your establishment. If you have a grand opening underway, consider getting your banners Ottawa, from Signs Ottawa, your one stop shop for all things signs and banners in town.
The first things you should consider when choosing an effective grand opening banner for your business are the size and shape. You want your 'welcome customers' banner to be memorable and noticeable, but make sure you can fit as much information about your business as possible. Rectangular banners when filled in with the right graphics and creative designs are excellent choices, but don't limit yourself to typical geometric shapes. Size is also an important consideration, especially if you want to catch people's eyes on a busy highway or street. Just the same, you should consider the type of material to use, especially when planning to hang the banner outdoors, as well as the placement of your banner. Signs Ottawa is the best place to turn to for all your banners Ottawa, signs, and graphics needs. We specialize in designing, conceptualizing, creating, and installing different kinds of business signs.
Banners Ottawa
Related Post
Visibility is everything when it comes to running a local business. If you are looking for reliable banner printers Ottawa, look no further than Signs Ottawa. We offer the most comprehensive solutions for your signage needs, whether you need a window display, sale banner, neon sign, or mobile sign to promote your business.
Banner printing often involves large-format printing equipment capable of producing large prints on a wide variety of banner media for outdoor or indoor use. Businesses in need of better publicity make use of these kinds of signs to get their products, services, and their brand noticed by customers. If your small local business is in need of a reliable banner printing and sign making service, check out our offerings at Signs Ottawa, one of the best banner printers Ottawa centers in the area.
Various printing media can be used to create lasting banners for indoor or outdoor use. Coated papers are most commonly used to help withstand fading, along with canvas, vinyl, and certain types of fabrics and thick papers that offer durability and fade resistance. Banner sizes also vary, depending on its design and purpose. Banner sizes range from 12 inches to 10 feet in height and width or even larger, depending on your needs.
Businesses can also choose between simplex and duplex (one-sided and two-sided) printing. Two-sided banners are great choices for areas where traffic comes from both directions, to make sure your message is seen both ways. Exterior banners are often more expensive to produce as they use more durable media that are more weather proof. These banners are often hung on exterior walls, light posts, awnings, and other conspicuous places outside of the business establishment. If you are looking for a good banner printers Ottawa center in the area, look no further than Signs Ottawa the leading sign-maker in town.
Sign A Rama Ottawa East
613-695-7446
2615 Lancaster Rd Unit 4, Ottawa, ON K1B 5N2
View Larger Map
We welcome your comments!