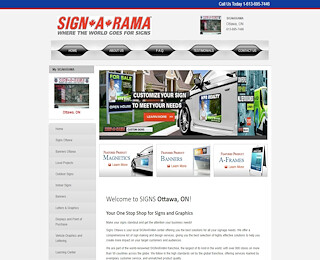 Signs Ottawa is your Number 1 sign center in the Ottawa area. We are part of a recognized franchise, seen in over 50 countries around the world, giving you the same level of service and product quality that SIGNARAMA is known for. Choose us for all your signage making, design, production, and installation needs.
Signs are a big part of your business. They are your PR representatives that can either bring good business to your doorstep or deter potential customers. This is why it is extremely important to choose the sign company to work with on all your advertising and marketing campaigns with care and thought.
Signs Ottawa
and other professional sign companies will often present you with their most successful projects to show you their excellent track record when it comes to sign-making. It is important to find a company that has the experience and expertise you need to help develop a successful and fool-proof image-building campaign for your business. If you want this kind of assurance, go for Signs Ottawa, a trusted franchise of the well recognized SIGNARAMA brand.
Just like Signs Ottawa, your choice of sign maker should have a positive reputation when it comes to producing and designing your signs. It helps getting recommendations from other people in your line of business as well as your friends to guarantee the quality of service your prospective sign maker offers. It is also important to develop a strong working relationship with your sign maker and supplier, especially when doing large scale or continuous campaigns for your business. Signs Ottawa is an excellent choice of sign center that offers expertise in creating and designing a wide variety of business signs for all kinds of businesses. We treat all our clients as family and we understand the unique needs of each of our partners. Don't hesitate to call us up for your sign making needs.
Related Post
Signs Ottawa is one of the leading sign companies Ottawa that offers you complete sign making, design, and installation services. We cater to all kinds of businesses, institutions, and organizations, helping clients with their brand recognition and promotion needs through our well studied and highly effective, messages, color schemes, designs and graphics.
There are many types of business signs you can use to get your business' name as well as the services and products you offer seen by the public, whether you want local or national exposure. Local businesses in need of better exposure within the community benefit well from the most basic types of signs like magnetic signs and banners. Some of the most successful business advertising and marketing campaigns start from these simple, yet highly impactful business signs, which offer great exposure for small local businesses. If you are interested in this kind of marketing and advertising technique for your business, check out our services at Signs Ottawa, one of the most trusted sign companies Ottawa offering you the best solutions for your sign making needs.
Magnetic signs are graphic signs that easily stick to vehicles, allowing you to create mobile ads that give your business the exposure it needs, as you drive your car around town or as your vans and trucks do deliveries. They are inexpensive and they can be taken off as easily as they are installed. Sidewalk signs and banners are also very effective types of business that are inexpensive and as profitable as magnetic signs, especially in local scales. They target customers right at the selling point and they can hold a good deal of information, enough to lure people into your business. Not only are they inexpensive to produce, they are also reusable and they last long, especially when made with the proper choices of materials. If you want long lasting and budget-friendly business signs, take advantage of our products and services at Signs Ottawa, one of the best sign companies Ottawa to turn to for all your business signage needs.
Stand out and get ahead of your competition with custom signs Ottawa. Unappealing generic signs can only get you so far, but customizing your business signs with us at Signs Ottawa will get you the customer attention that your business deserves. Call us up for all your signage design and production needs.
Uniqueness is one of the most important characteristics your business displays and signs must have in order to catch your audience's attention. This is especially true when competing in a tight Ottawa market. However, you should also consider other factors like your sign's readability, brand representation, relevance, and communicative properties, which all contribute to its effectiveness. Custom-made signs are the best tools to convey your message as well as represent your brand or business to a wide audience as well as to beat the short attention span of your target customers. If you are in need of high quality and impactful custom signs Ottawa, don't hesitate to call us up at Signs Ottawa, your local SIGNARAMA franchise, offering the best and most comprehensive sign making services in the area.
Custom signs allow you to create a unique image for your business as well as the products and services you offer. This way, you can present your business in a way that can definitely catch the attention of your target customers and an even larger audience, especially if you make use of custom digital displays, billboards, large banners, and other types of signage designed to reach a bigger audience. Custom signs Ottawa can also be in the form of your window or overhead display that welcomes your actual customers into your store or shop. Small details like these communicate positive qualities of your business to your customers. If you want to improve your brand image through signs and graphics, check out our products and services at Signs Ottawa.
Sign A Rama Ottawa East
613-695-7446
2615 Lancaster Rd Unit 4, Ottawa, ON K1B 5N2
View Larger Map
We welcome your comments!